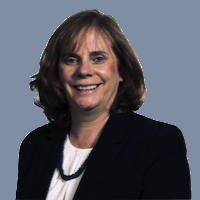 Partner
212-419-5210, ext. 6
516-721-5343 (mobile)

Maura Russell focuses her practice on corporate restructuring matters, with extensive experience in the retail arena, as well as commercial real estate, technology companies and intellectual property portfolios. Over her 30-year career, Maura has provided counsel to clients in both judicial bankruptcy proceedings and non-judicial out-of-court restructurings and business winddowns.
Maura has served as lead and special counsel to debtors, secured creditors, individual creditors, official and unofficial committees of unsecured creditors, buyers and liquidators of assets in large complex Chapter 11 cases. Maura has served a lead role in transactional matters in many cases across the country, ranging from developing and implementing bidding and sale processes to representing buyers and liquidation firms in their efforts to acquire assets in both judicial and non-judicial restructurings and Chapter 11 cases throughout the United States and Canada.
Maura is certified as a qualified mediator by the American Bankruptcy Institute.
Prior to joining Leichtman Law PLLC, Maura was a partner in the bankruptcy and restructuring groups at national and regional law firms.
Education
St. John's University, B.S. Criminal Justice (1990)
St. John's University School of Law, J.D. (1993)
Bar Admissions
New York State Bar (1994)
Federal Court Admissions
District Court for the Southern District of New York (1994)
District Court for the Eastern District of New York (1994)
District Court for the Northern District of New York (2019)
District Court for the Western District of Michigan
Professional Associations
American Bankruptcy Institute
Turnaround Management Association
Nassau County Women's Bar Association
Recent Awards
Winner 2023 The M&A Advisor 2023 Telecommunications Deal of the Year Award for Pareteum Corporation
Special asset disposition counsel to debtors in connection with liquidation of their retail store locations. Negotiating underlying liquidation agreement, drafting motions and proposed orders, and court appearances and argument (Art Van Furniture, LLC, et al.- Wilmington, DE; Forever 21, Inc., et al.- Wilmington, DE; Forever XXI, ULC – Ontario, Canada; and Charming Charlie, LLC, et al. – Wilmington, DE)

Special asset disposition counsel to secured lender for liquidation of various debtors' retail store locations (Anna's Linens, Inc. – Santa Anna, CA; Dots, LLC – Newark, NJ; Love Culture, LLC – Newark, NJ; Delia's, LLC – White Plains, NY; RadioShack Corporation – Wilmington, DE; and Ben Moss Western Jewellers, Ltd. – Toronto, Canada)

Counsel to national liquidation firms retained as debtors' liquidation consultants in numerous Chapter 11 retail bankruptcy cases. Negotiating liquidation agreements, reviewing and revising draft motions and proposed orders, and attending related court appearances, including addressing contested matters (Olympia Sports, LLC, et al. – Wilmington, DE; Modell's Sporting Goods, LLC, et al. – Newark, NJ; and Old Time Pottery, LLC – Nashville, TN, RWRF, Inc. f/k/a B. Lane, Inc/ d/b/a Fashion to Figure – Newark, NJ; Heritage Home Group, LLC, et al. – Wilmington, DE; hhgregg, Inc., et al. – Indianapolis, IN; and Brodkey Brothers, Inc., et. al. – Omaha, NE)

Counsel to co-purchaser of chapter 11 debtor's assets, addressing bifurcation of assets between and among multiple U.S. and European business lines and, negotiating and documenting global settlement among debtor, co-purchaser, and creditors' committee, related court appearances and argument, closing the sale and subsequent corporate transition work (Pareteum Corporation, et al.- New York, NY)

Counsel to secured creditor in connection with UCC Article 9 sale of borrower's assets (Simtec, LLC – New York, NY)

Lead U.S. counsel to foreign retailer. Negotiated asset-based loan for €250 million with U.S. based secured lender and its foreign affiliates and worked with international insolvency counsel to wind down of business

Planned and implemented consignor's winddown of private multi-million-dollar consignment program with national retailer

U.S. counsel to form retail executive in pursuit of a guaranty claim against his former employer's foreign parent company

Planned and implemented culinary school's out-of-court wind down with its secured and unsecured creditors over a ninety (90) day period.

Counsel to secured creditor and purchaser of substantially all debtor assets (Enumeral Biomedical Holdings, LLC – Boston, MA)

Special counsel to the debtor and its manager for disposition of commercial property assets (KFM Holdings, Inc., et al. – Los Angeles, CA)

Investigated claims of breach of fiduciary duty by senior executives of a public company
Co-Author, "You've Cut Costs, Laid Off, or Furloughed Employees. Now What?," Client Alert (Montgomery McCracken), April 6, 2020
Co-Author, "Proposed Heroes Act Poses Great Risks to Those Extending Credit or Attempting to Collect on a Debt" Client Alert (Montgomery McCracken), August 5, 2020